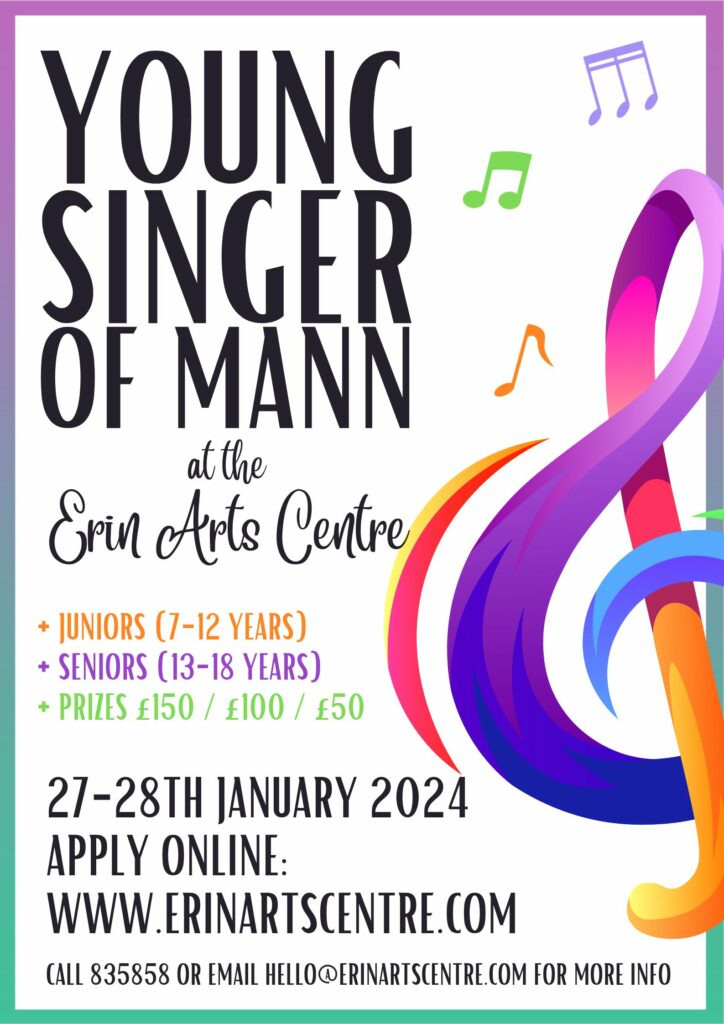 You can complete the form online by clicking the image above, or collect a printed copy from the Erin Arts Centre box office in Port Erin (call 835858 or email [email protected] for more information).
---
Juniors (7-12 years) – Saturday 27th January 2024 – 2pm start
Seniors (13-18 years) – Saturday 28th January 2024 – 2pm start
Closing date for entries – Friday 12th January 2024 – 4pm
The competition will take place over a single round on each day, after which the adjudicators will pick a 1st, 2nd and 3rd place in each class. The order of performance will be chosen by draw on the day of the competition, and competitors will be notified of the order on arrival.
---
2024 adjudicators:
Angela Stewart (Chair), Jane Corkill, Christy DeHaven, Jack Divers.
The adjudicators will be looking for the following qualities from competitors:
Musicality: Musical sensitivity and expressive power, plus the ability to interpret a song with an appropriate sense of style.
Performance: The way in which the competitor communicates their performance – how they stand, sit or interact with the audience.
---
Competitors must sing from memory. Singers are asked to perform two contrasting pieces not exceeding 8 minutes total. All genres and styles are welcome.
Either one or both of the singer's pieces MUST be accompanied by our official accompanist Madeline Kelly. If not accompanied by Madeline, pieces must be sung acapella. Competitors should contact Madeline BY TEXT on 07624 465168 to arrange a date & payment for their personal rehearsal/s.
---
Winners of Junior & Senior "Young Singer of Mann":
1st place: £150 cash prize + trophy
2nd place: £100 cash prize
3rd place: £50 cash prize
Spot prizes courtesy of Mannin Music
All performers: Young Singer of Mann certificate
All trophies are kindly provided by the IOM Arts Council. All cash prizes are kindly provided by The Malcolm Dickinson Trust.
---
Competitors are asked to submit a copy of their sheet music along with their application form – this will be provided to the official accompanist should it be required.
Competitors are also asked to bring an original purchased copy of their sheet music on the day of the competition – this will be provided to our adjudicators during performance. Please make sure all songs are clearly marked with the singer's name.
---
Founded in 1992 by Barbara Gale
Administered by the Erin Arts Centre
Competition kindly sponsored by The IOM Arts Council & The Malcolm Dickinson Charitable Trust
---
Keep updated online erinartscentre.com
Find us on Facebook / Insta / X (Twitter) @Erinartscentre
(01624) 835858 | [email protected]
The Erin Arts Centre is a registered charity: Charity number 236A