Those hazy September days on the beach are stretching out towards autumn and there's jazz in the air! The Port Erin Jazz Festival is back for a third instalment with a thrilling and eclectic lineup. Tickets will fly so get them quick!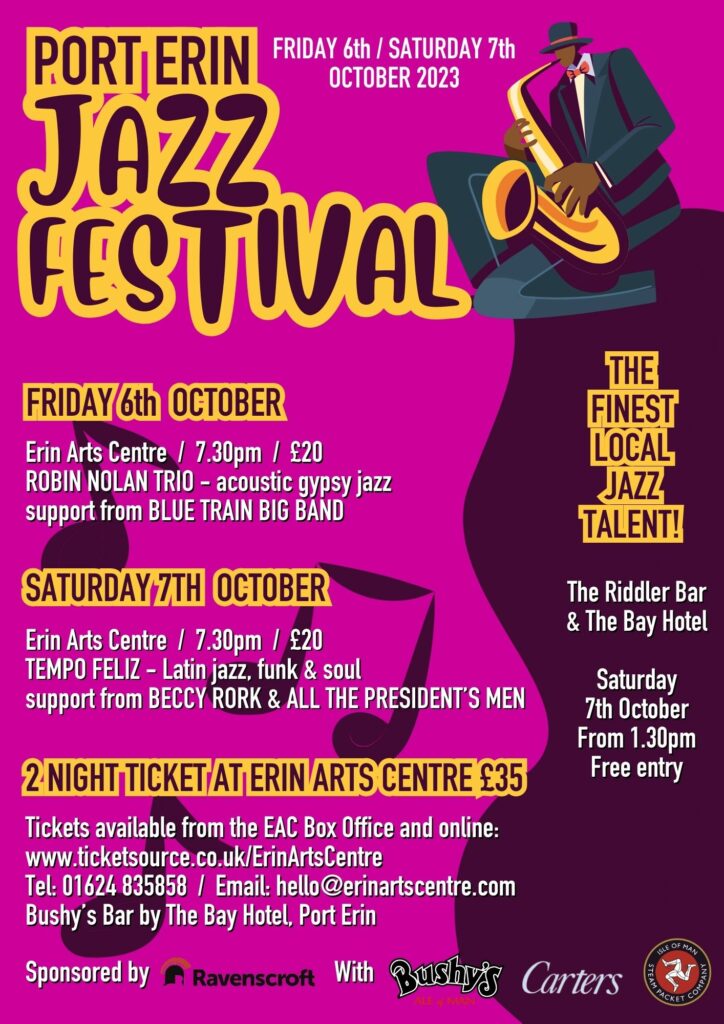 FRIDAY 6th OCTOBER – 7.30pm – ERIN ARTS CENTRE – TICKETS £20 
ROBIN NOLAN TRIO 
(support from BLUE TRAIN BIG BAND) 
The festival opens at the Erin Arts Centre with local heroes, the Blue Train Big Band who set the place alight last year supporting Martin Taylor. Expect Hawaiian shirts and slick, dynamic interpretations of modern big band tunes, guaranteed to get your feet moving. If you haven't seen them yet, you need to! 
Friday's headline act is the sensational Robin Nolan Trio, an Amsterdam-based acoustic gypsy jazz band, inspired by the legendary guitarist Django Reinhardt. Peppered with hypnotic rhythms and rippling melodic themes, RNT's repertoire features jazz standards from the greatest composers of the 20th century, as well as an increasing list of original compositions. This will be red hot! 
 
SATURDAY 7th OCTOBER –  FROM 1.30PM – FREE ADMISSION 
On Saturday afternoon the finest local jazz talent will be rocking The Bay Hotel and The Riddler Bar at The Falcon's Nest.  
THE BAY HOTEL 
This year a new jazz ensemble, Mood Indigo featuring Lauren Grey, Simon Williams, Carlos and John Thompson, will open the afternoon, followed by Tree ny Kiare led by Martin Thomas, who play an original mix of jazz, funk and folk. The Heinrich Manoeuvre, supplying New Orleans-flavoured jazz, blues and boogie-woogie will close the show. 
THE RIDDLER BAR 
At the Falcon's Nest, Loose Crew will start the party, fusing blues, jazz, and funk in their own inimitable style. They'll be followed by a new local ensemble The Jazz Stalwarts, with EAC Jazz Club residents Blue Vannin and special guest Beccy Rork raising the roof before the evening show. This will be busy so get down early and get in the mood!
SATURDAY 7th OCTOBER – 7.30pm – ERIN ARTS CENTRE – TICKETS £20 
TEMPO FELIZ   
(support from BECCY RORK and ALL THE PRESIDENT'S MEN 
Festival favourite Beccy Rork is up first, supported by local stars all The President's Men. Beccy is an excellent sax player, teacher and arranger whose melodic style and warm tone have been likened to that of Paul Desmond, Art Pepper and Bud Shank. She began playing in blues, funk and soul bands in Norwich and went on to study Jazz, Popular and Contemporary Music at Leeds College of Music. Beccy performs regularly throughout the UK and Europe with a myriad of artists and is in constant demand as a bandleader and session musician. All the President's Men have backed Dave Newton at EAC and recently supported Harvey O'Higgins at the Mananan Festival. They are really looking forward to this! 
To the close the festival, we have a very special treat in the shape of Tempo Feliz. One of the most exciting and original Latin bands in the UK, Tempo Feliz fuse classic Brazilian styles (samba, bossa, MPB) with elements of funk, soul, jazz and disco, to create electrifying and unique grooves guaranteed to get your feet tapping. Brace yourself for huge horns, the funkiest samba guitar, infectious Brazilian rhythms, traditional percussion, and beautiful melodies that echo the spirit of Rio de Janeiro. Dynamite!
Tickets are £20 each night (or £35 for both nights if you buy in the same purchase). Just click "continue shopping" after your first booking on our Ticketsource page. 
The EAC shows are general admission with cabaret-style, table seating. 
The EAC bar will be staffed by The Bay Hotel, Port Erin. 
Port Erin Jazz Festival Thanks our sponsors: Ravenscroft 
With Help From: Bushy's, Carters, IOM Steam Packet