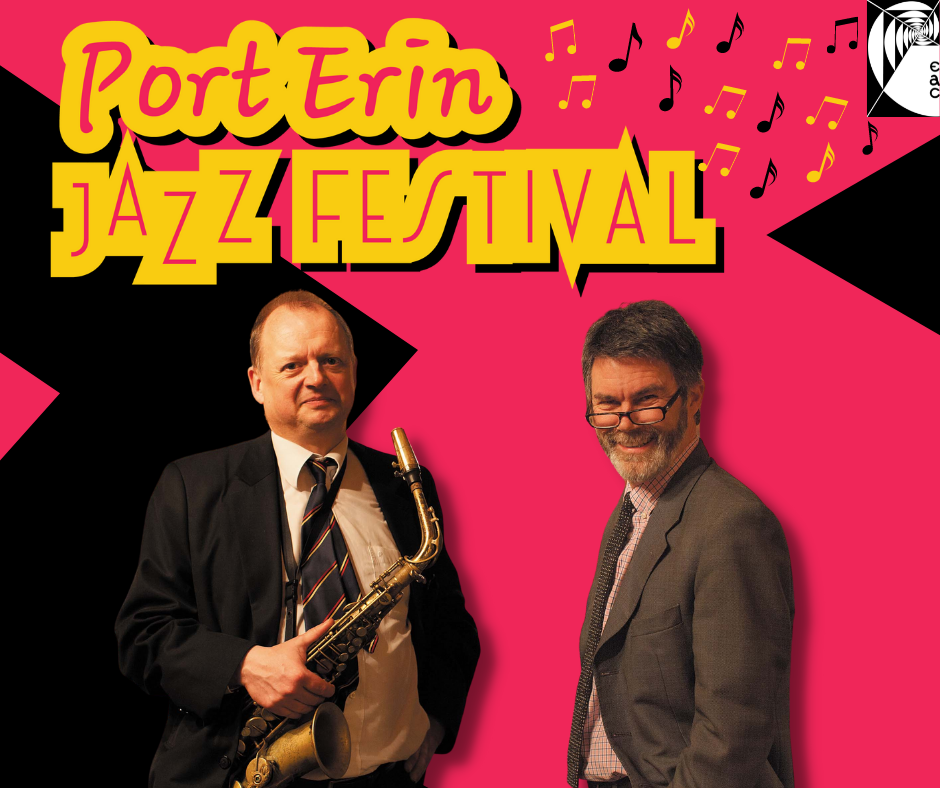 We are extremely excited to kick the weekend off tomorrow night!

Friday night is completely sold out and there are only 8 tickets left for Saturday.
There will be also free jazz in the day at the Riddler (The Falcons Nest) and The Bay Hotel, so get down and support these brilliant acts!
See below for the full lineup
FRIDAY 8th OCTOBER – ERIN ARTS CENTRE 7:30pm | £15
(Doors open at 7pm)
Cooil Hand Fluke – A newly-formed local group of highly talented musicians, performing progressive cutting-edge jazz.
Intermission
The Main Event – The legendary Alan Barnes & Dave Newton supported by the Leeds Music College House Band
Saxophonist Alan and pianist Dave are no strangers to the island, and we are delighted that they are headlining the festival. The two met at Leeds Jazz college and have gigged regularly ever since. There are too many accolades, awards and achievements to fit in this programme but rest assured that you are in for a real treat of melodic and beautiful music. Dave is still a lecturer at Leeds Music College and has been able to secure the support of the LCM house band who are very exciting prospects indeed.
SATURDAY 9TH OCTOBER
THE BAY HOTEL Port Erin | Free Entry
1pm Tree ny Kiare – A new band featuring Kirsty Lawrence, Russell Cowin and Martyn Thomas, playing trad Celtic vibes in a jazz setting.
2pm Beccy Rork and the Leeds House Band – Alto and tenor saxophonist Beccy Rork (another Leeds graduate) has kindly flown over to perform a lively set with the LCM band. An energetic and eclectic mix of jazz is guaranteed. Best to get there early if you want a good seat.
3:15pm The Heinrich Manoeuvre – Manx keyboard ace Heinrich will lead his trio through a set of New Orleans jazz R'n'B and foot-tapping boogie-woogie.
THE FALCONS NEST | Free Entry
1pm The Big Wheel Blues Band – The bedrock of blues on the island for many years.
2pm The Dave Holland Swing Band – Some lovely mainstream jazz led by the multi-talented singer, keyboard, and saxophonist Dave Holland with two saxes and a trombone. Be ready for a big wall of sound from this talented band!
3pm Loose Crew – The nearest thing the island has to a showband, Loose Crew have a phenomenal stage presence and a very wide range of songs, from Louis Jordan to Santana, all underpinned by some beautiful rhythms.
4pm Blue Vannin and friends – Blue Vannin are the Erin Arts jazz club band. Trombonist Jacqui was at Leeds Jazz college with Beccy Rork, who has kindly agreed to jam on some of the set. It is likely that other guests will make an appearance in what is hoped will be a great session to conclude the afternoons' entertainment.
ERIN ARTS CENTRE – A TRIBUTE TO 1959 7:30pm | £15
(Doors Open at 7pm )
1959 was a seminal year for jazz: Miles Davis – 'Kind of Blue', Dave Brubeck – 'Time Out' and John Coltrane – 'Giant Steps', as well as landmark recordings from Ornette Coleman and Charles Mingus all featured. In addition, Alan Barnes was born and to mark his 60th birthday recorded '+11', an album of beautifully arranged 1959 classics.
Blue Vannin – Fresh from the Falcons Nest and doubtless fortified with Bushy's will open with a short set of hits from this magical year.
Intermission
The Great 1959 Tribute
Led by Messrs Barnes & Newton and supported by the boys from Leeds, this promises to be one of the greatest jazz sets ever witnessed by a Manx audience! As well as Alan and Dave, there will be some guest appearances in the form of Beccy Rork and local saxophonist Steven Hine.
General
The Saturday afternoon jazz at the Falcons Nest and the Bay Hotel will be free from any admission charge. However, there will be honesty boxes on site if patrons wish to contribute to the cost of organising the event.
See you all soon!